Software
May 24, 2022
Aggregate Federal Market Analytics
A new "Market Research" section includes screens for tracking aggregate federal spending on Software/Hardware and award activity in 10 high-level categories (AI, Business Process Applications, Cloud Infrastructure & Services, Communication & Productivity, Cybersecurity, Data Management & Analytics, Engineering & Developer Tools, Health IT, IT Management, Networking & Hardware).
The "Categories Overview" tab shows historical spending by quarter (Figure 1). Change the "View By" option to "Aggregate" to see total spending for all Software/Hardware vendors covered in our data set.

Use the "Level 1 Category" menu to view a single category.
Use the "Supplier" and "Product" filters to remove vendors from our pre-defined categories.

The "QTD Monitor" tab shows point-in-time YOY comparisons for aggregate federal Software/Hardware spending and awards within each category (Figure 2).

The QTD Monitor updates daily and adjusts for the 90-day lag in Defense Department data disclosure by comparing award activity in the current period with awards signed in the year-ago period that had been disclosed as of one year ago. This provides an apples-to-apples comparison and is the best way to gauge federal spending levels in real time.
Scroll down to view the "Supplier Level Detail" chart that shows individual contributors to each category.
Figure 1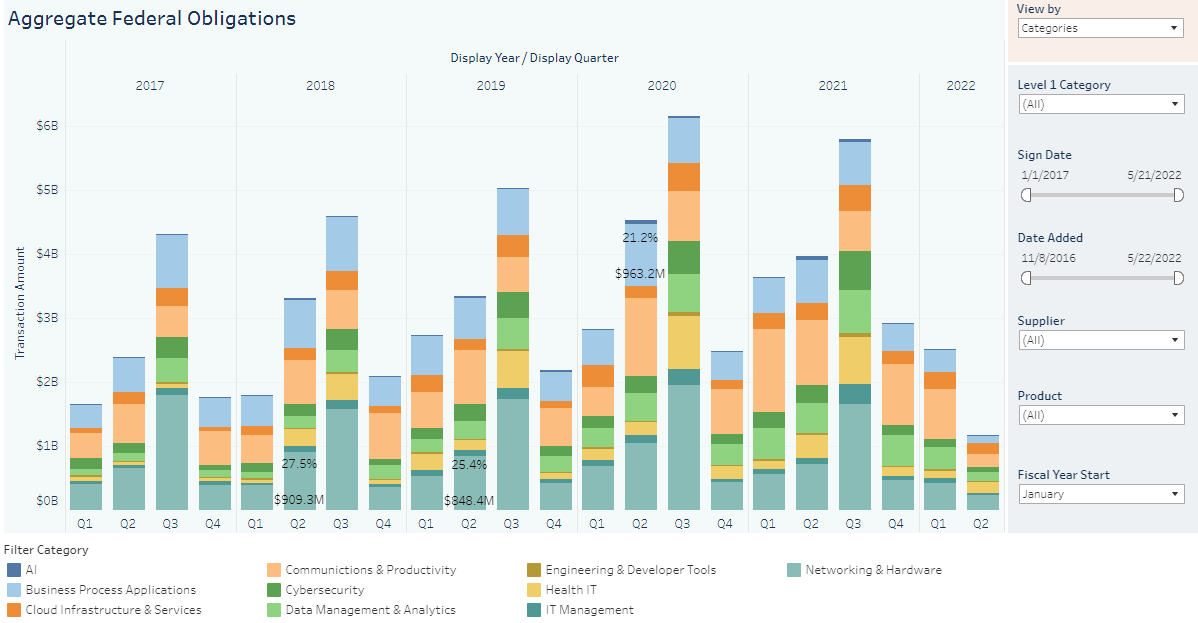 Figure 2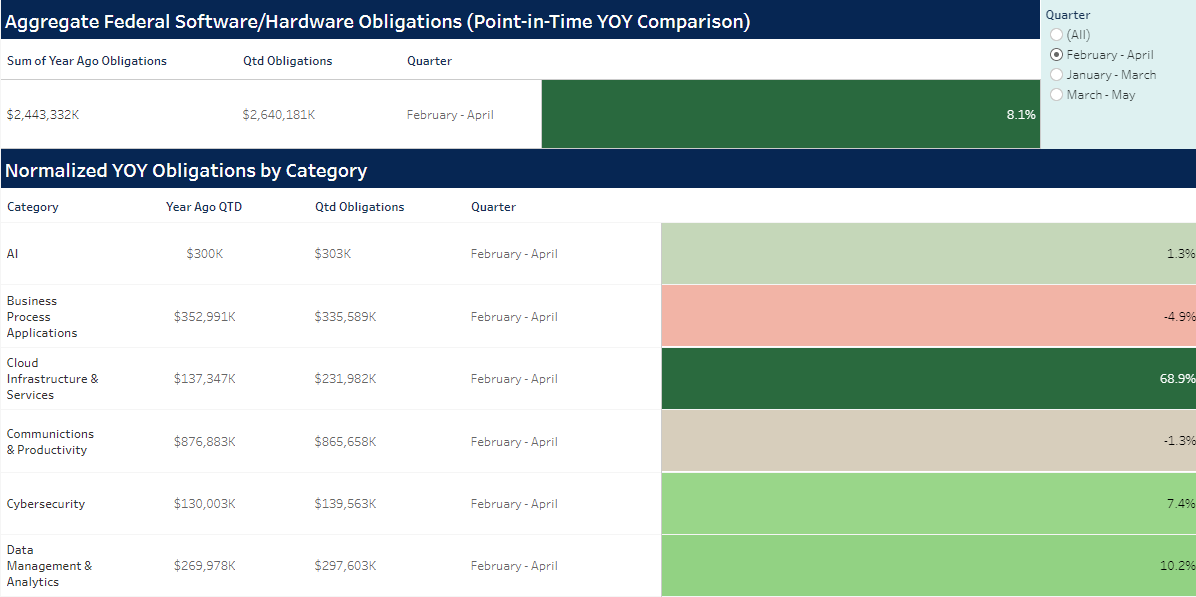 Software
August 05, 2021
New Federal Views
An updated user interface makes the Federal data set easier to navigate and adds new functionality.
Some highlights include:

Award Charts: The new default screen consolidates several tabs into a single dashboard (example screenshot below). Using the "View Selector" menu in the upper right, users can view obligations by government agency (Level 1 Customers), or government bureau (Level 2 Customers), among other options. Transaction details are provided below the chart (this data was previously available on a separate tab called Obligation Data).
Expirations: This tab makes it easy to see when major contracts are set to end.
Comp Scanner: This new screen ranks suppliers by percentage growth in federal awards in the year-ago quarter. This makes it easy to identify suppliers that face difficult/easy year-over-year comparisons in federal.

Please contact us with any questions or to schedule an analyst call.
You can revert to the old federal views by selecting "Switch to classic view" on the right side of the screen.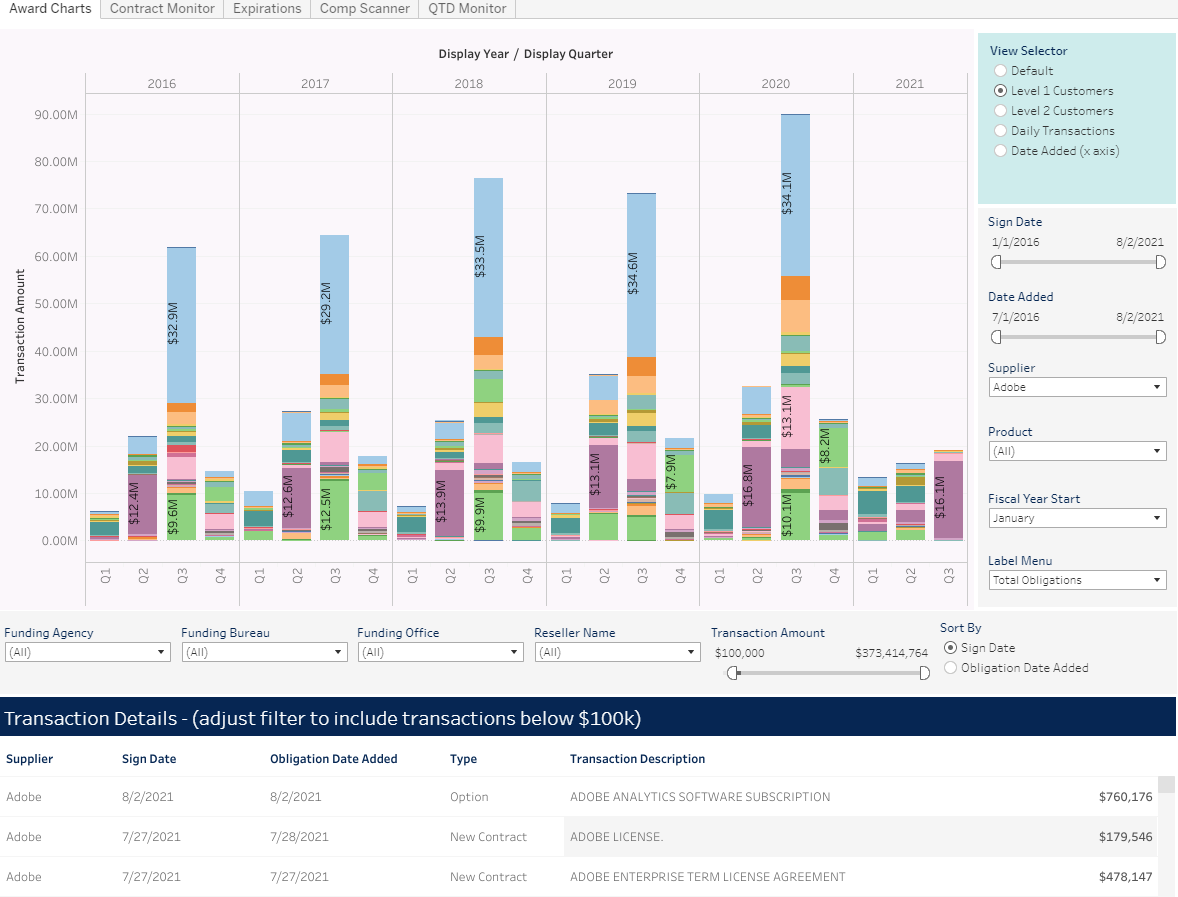 Software
February 23, 2021
Contract Notifications
Users can now create/edit email alerts by logging in to their account and selecting "Contract Notifications."
Alerts can be configured to trigger at different value thresholds for different groups of suppliers (see example below).
Email notifications can be scheduled for daily, weekly, or monthly delivery.
Users who already receive email alerts DO NOT need to take any action. Notifications have been configured based on current criteria. However, adjustments to notification criteria (adding suppliers, changing value thresholds) can be made by selecting "Contract Notifications" and submitting changes.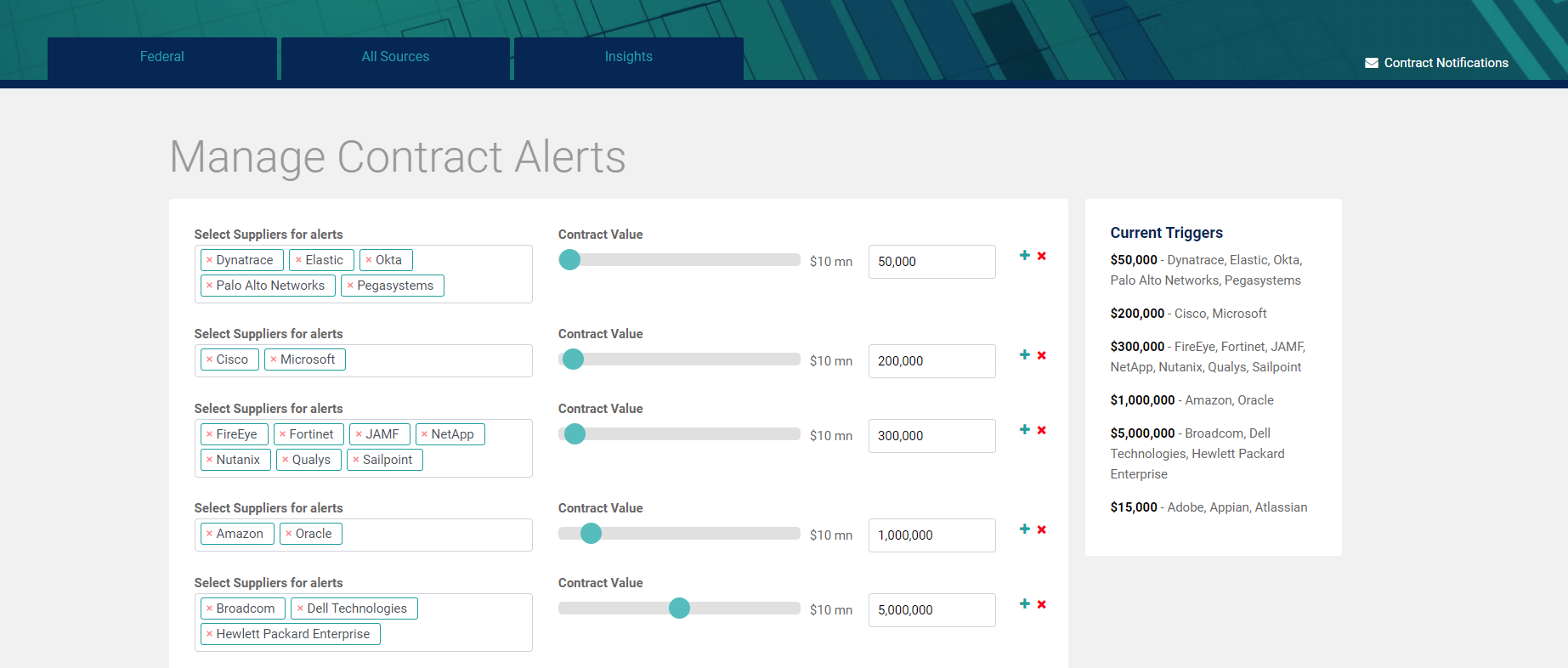 Software
November 30, 2020
New Suppliers Added
Rackspace, Snowflake, MobileIron, JFrog, JAMF, and Iron Mountain have been added to Software/Hardware
Software
November 23, 2020
New Data Source Added
Contracts awarded by the state of Pennsylvania have been added to Software/Hardware
Software
October 23, 2020
New Supplier Added
Palantir has been added to Software/Hardware