SAIC
SAIC Supply Chain Business May Get Boost as Pentagon Reconsiders $1 Billion "FSG 53" Contract Award
14 December, 2021 4:05 am
Summary: The Defense Logistics Agency in June 2021 selected privately held Noble Sales Co. over SAIC for a $1 billion, 10-year contract called FSG 53, a consolidated deal to supply the U.S. military and allies with screws, nuts, bolts, washers and other Federal Stock Group 53 components. SAIC successfully protested Noble's win, with a Government Accountability Office decision issued October 27 recommending that DLA reevaluate revised proposals and make a new award.
Background: The Pentagon announced the contract award on June 28, 2021 (confusingly, the announcement failed to identify the contract as FSG 53 and listed the value as $263 million, which presumably covers only the initial three-year base period).The GAO decision sustaining the protest explains that SAIC received higher technical ratings in the bid evaluation but was passed over because of its substantially higher proposed price of $1.52 billion vs. $1.03 billion (see Fig. 1). Accordingly, the GAO decision focuses on how DLA evaluated the bidders on price, explaining that "SAIC provided detailed, extensive information in support of its proposed unit prices, whereas Noble provided essentially no such information." DLA determined SAIC's prices were unreasonably high and deemed Noble's prices were fair and reasonable, despite Noble's "failure to furnish any meaningful information that would have given the agency confidence that its prices reflected prevailing market conditions," according to the decision.
The GAO decision concludes that DLA ignored the substantial impact that the Covid-19 pandemic had on supply chains. "The agency's evaluation of whether prices were fair and reasonable essentially ignored the realities of a dramatically different market--as illustrated by SAIC's empirical pricing data--and instead was based on outdated historical pricing data that bore little relation to current market conditions."
Fig. 1 (Source: GAO)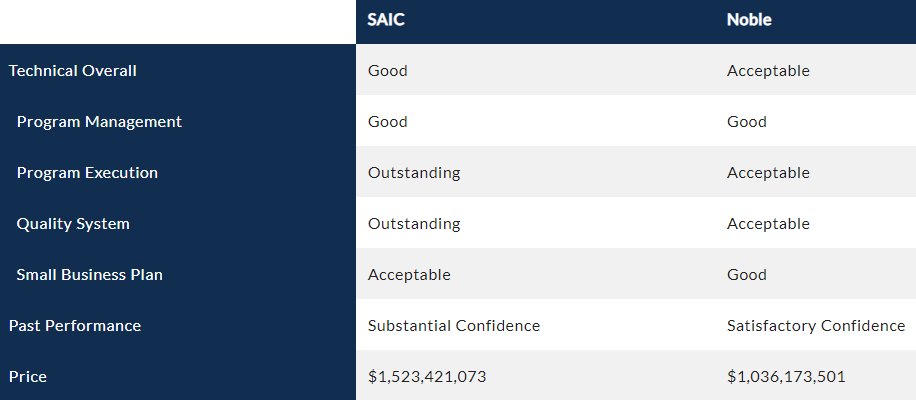 Our Take: While there has been no official announcement about the status of the competition, we think DLA will very likely follow GAO's advice to hold new discussions with the bidders and issue a new award decision, probably in Q1 2022. The initial award decision on FSG 53 was apparently entirely about price, and GAO has strongly refuted DLA's price evaluation. In new discussions, DLA will need to demonstrate a rigorous analysis of submitted prices to avoid another protest. We think this favors SAIC, which has already provided detailed pricing data. By comparison, Noble stated that "getting suppliers to respond to our requests for quotes was a significant challenge" and "provided essentially no evidence to support its quoted prices," according to GAO.
We also note that SAIC is a dominant military supply chain contractor (the company holds a similar DLA contract known as FSG 80 and is the longtime incumbent on the agency's Global Tire Program). This bolsters our view that SAIC's higher priced bid for FSG 53 seems to have been entirely the result of unusual supply chain conditions, rather than the result of a technical shortcoming or proposal error.
Although it's rare for government agencies to reverse course and select a bidder that was initially rejected, in this case we rate SAIC as a moderate favorite to ultimately receive the FSG 53 award.
Please contact Francessca Chiappinelli with any questions or to arrange an analyst call.