Appian
Appian May be Frontrunner for Major New DOD Contract Writing System
22 December, 2021 2:00 am
Summary: Appian may be well positioned to replace a major Defense Department contract writing system known as the "Standard Procurement System" that is slated to be retired in September 2023. While the effort is in an early stage and obstacles remain, newly disclosed details show the department is conducting a 12-month pilot with Appian's procurement solution for a possible rollout across DOD agencies collectively known as the "Fourth Estate." A key competitor in this area, CGI, appears to have struggled to implement similar projects, which likely bolsters Appian's position. The replacement for SPS will likely be substantially larger than Appian's top two DOD programs (IDEAS, a procurement system used by the Defense Information Systems Agency, and CON-IT, a procurement system used by the Air Force.)
Background: The Standard Procurement System, or SPS, is a Defense Department contract writing system managed by the Defense Logistics Agency (DLA). It has been in use for 25 years and is utilized by about 27,000 procurement professionals, primarily across 16 defense agencies that operate separately from the military branches. (For comparison, Appian's CON-IT Air Force program appears to have about 6,800 users, according to government contracting data).
Oracle recently filed two protests against DLA over a pilot project the agency is conducting to evaluate Appian's procurement solution as a potential replacement for SPS. The contracts for the pilot project are small in scale, involving about 300 Appian licenses and associated configuration and support over 12 months. However, Oracle argues the pilot is significant because it is part of DLA's plan "to convert the never competed Appian-based contract writing tool into the next-generation contract writing system for the entire Fourth Estate."
The Government Accountability Office found no merit in Oracle's arguments and denied both protests in decisions released Dec.6 (here and here). We note that the decisions rebut Oracle's arguments in narrow legal terms. They do not address the substance of whether DLA is likely preparing to adopt Appian's solution, as Oracle contends.
Our Take: We consider Oracle's protests to be significant evidence that Appian is likely a frontrunner for the SPS replacement, as we think Oracle would only challenge a small-scale procurement if it had a high degree of visibility into DLA's approach and substantial confidence that the pilot was a meaningful step towards the enterprise-wide rollout.
Additionally, Appian is already the contractor for the procurement system used by DISA, which is one of the largest components of the so-called Fourth Estate group of defense agencies. Adopting Appian's platform for the broader group of agencies could simplify integration and reduce the execution risk.
Execution risk may be top of mind for DLA officials, given the struggles the Army and Navy have experienced trying to upgrade their own contract writing systems. Both services selected CGI to implement its Momentum-Acquisitions software. The Navy in 2019 awarded CGI a $223 million, 10-year deal, and the Army in 2017 picked CGI for a $134 million, 10-year contract. Now, both those efforts are struggling, with the Navy this summer deciding to pause CGI's contract after spending $25 million on two years of development.
To be sure, DLA may be considering other options in parallel with the Appian pilot, and Oracle could further press its legal challenge by protesting future steps in the SPS replacement procurement (also known as the Fourth Estate Next Gen Contract Writing System). But we think a convergence of factors make Appian the leading contender for the SPS successor deal. Additional DOD expansion opportunities may arise for Appian should the Army and/or Navy opt to terminate their contract writing agreements with CGI.
Please contact Francessca Chiappinelli with any questions or to arrange an analyst call.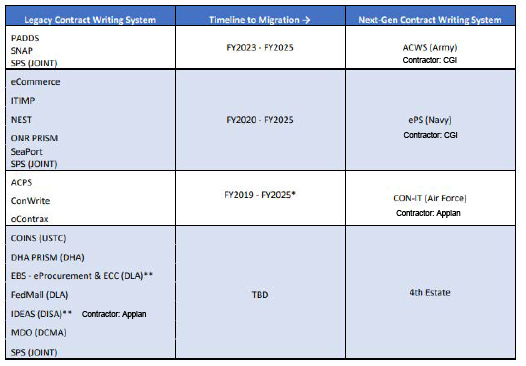 Source: DOD's Strategic Plan For Defense Wide Procurement Capabilities, March 2020. (Contractor info added by Nation Analytics)