Award Context and Insight
05/30/2017 12:57 PM
Free Webinar June 8 - 2017 Competitive Intelligence Report and Subscription Service Overview
We're hosting a free 20-minute webinar to explain what the 2017 Government Services Competitive Intelligence Report and subscription service is all about and how it can help your business.
We'll provide an overview of the study's key findings, explain the benefits federal services businesses can gain from the report and subscription service, and walk through some example use cases.
The webinar will take place on Thursday, June 8 at 1 p.m. Register here!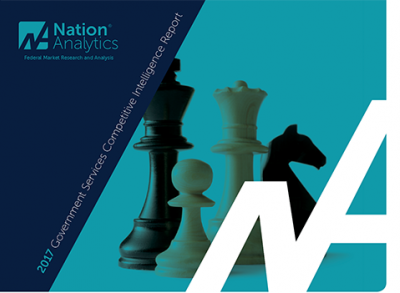 The report is the most comprehensive analysis of the competitive environment for major federal services awards ever published. It's based on a review of every major competitive services contract issued in fiscal 2016. Compiled here for the first time, this data set identifies the winner of every major new requirement and re-compete, every displaced incumbent, and categorizes the acquisition approach that led to every award.
Key topics discussed in the report include:

What factors lead to challenger success in major contract competitions
Which agencies are most challenger friendly and which lean toward incumbents
What kinds of requirements are shifting into the small business market
Where are the most major new requirements emerging
Which companies are proving to be the toughest competitors for major requirements
Which companies lost major projects in fiscal 2016
Purchase of the 2017 Government Services Competitive Intelligence Report comes with monthly updates on the latest major contract wins and losses, and additional analysis. You can download a sample and read more about the report and subscription service on our website.